Yoga Therapy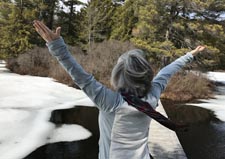 Sessions available in-person or via ZOOM.

Structural Yoga Therapy:
First Visit: 90 minutes includes consultation, assessment, teaching techniques/practice, and home practice material..
Subsequent Visits: 60-75 minutes.
In most cases, three visits provide the techniques and knowledge to continue independent practice. Follow-up consultation and visits available as needed.
---
Yoga Nidra:

First Visit: 75 minutes includes consultation (N/C) and session.
Subsequent Visits: 60 minutes.
---
Structural Yoga™ Therapy (SYT)
for the relief of Chronic Conditions, Pain & for Spiritual Growth
---
Structural Yoga Therapy is an adaptive therapeutic style of yoga which supports the body's innate capacity to heal from an injury, illness, or stress. A client's particular needs are identified through the review of a completed health history form and questionnaire, consultation, and a physical evaluation. Mary tailors a program with the focus and yoga techniques to help restore ease of movement and well-being. Client practices and then receives the sequence with written details and drawings for home practice.
No yoga experience is required.
---
Integrative Restoration (iRest) Yoga Nidra / Meditation
---
iRest Yoga Nidra is a research-based transformative practice of deep relaxation and meditation - an ancient tradition of Yoga Nidra adapted to suit the conditions of modern life. When practiced regularly - little and often - iRest enables you to meet your life more peacefully, no matter how challenging or difficult your situation.
iRest has been effective in scientific trials for conditions including depression, anxiety, insomnia, chronic pain, PTSD, chemical dependency, and more.
No yoga or meditation experience is required.
---
Inner Quest Yoga & Wellness Center
You are the visitor. Thank You for stopping by.