Sound Bath MEDITATION
Group Sound Meditation Fee: $30/pp
Payment via cash, check or Credit card via Pay Pal (link below) or VENMO (MaryBartel238).
Make checks payable to Inner Quest Yoga. Drop off or mail payment.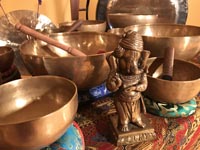 For more information email or call:
Mary Bartel 518-354-2425 or

w/ Mary Bartel, Sonic Healing Alchemist Practitioner
---
What is a Sound Bath Meditation?
During a Sound-bath you are bathed in a sonic symphony of mystical tones and vibrations produced by Tibetan and Crystal singing bowls, gongs, chimes, and more. The resonance of the instruments is not just an auditory experience – it's a whole body experience, like receiving a bodily sound massage. Most people fall into a state of deep relaxation which is healing. The sounds act as the focal point, which can lead to releasing deep rooted tension and emotional blocks. Many people emerge from the experience reporting feeling lighter, serene, more in balance, refreshed, rejuvenated and sometimes "ready for a nap!"
"Sound is the medicine of the future." - Edgar Cayce
---
Pre-registration to save a space set-up with a yoga mat, a blanket for padding, a blanket to cover up, and a cushion you can rest your legs over or use under your head. For added comfort, bring any other props you would like for comfort.
Inner Quest Yoga & Wellness Center
You are the visitor. Thank You for stopping by.